Detoxification in Westchester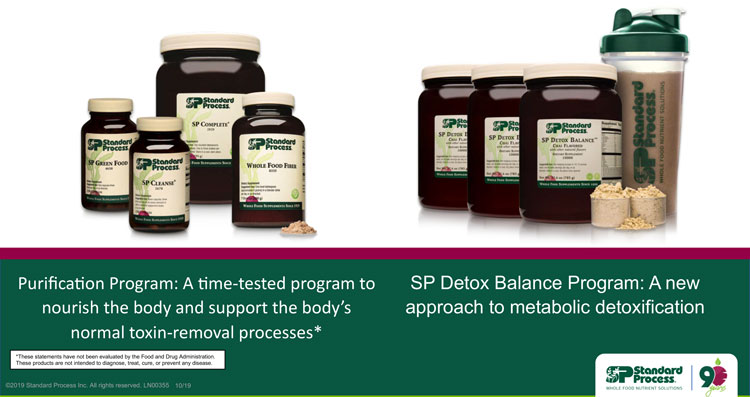 SP Detox Balance™, 28-Day Program Kit
SP Detox Balance supports whole body detoxification.*
Supports the body's natural metabolic detoxification processes*
Rich source of protein (17g per serving)
Contains protein from pea isolates, pumpkin concentrate, oat flour and buckwheat flour
Provides amino acids required for conjugation enzymes (phase II enzymes)*
Good source of dietary fiber
Supports the body's natural toxin elimination function*
Good source of plant-based magnesium
Gluten-free
Vegan
---
What contributes to toxin buildup?
We are exposed to toxins every day. In fact, our bodies produce waste toxins known as endogenous toxins simply by functioning. Our bodies also encounter external (exogenous) toxins, or chemicals made outside the body. Exposure to these toxins can overburden a system's natural ability to detoxify.
Toxins can contribute to:
Fatigue or difficulty sleeping
Indigestion and other temporary gastrointestinal upset
Food cravings and weight gain
Reduced mental clarity
Low libido
Skin issues
Joint discomfort
---
Why do we need Metabolic Detoxification?
Toxins can contribute to: fatigue or difficulty sleeping, indigestion and other temporary gastrointestinal upset, food cravings and weight gain, reduced mental clarity, low libido, skin issues and joint discomfort.
---
What is Metabolic Detoxification?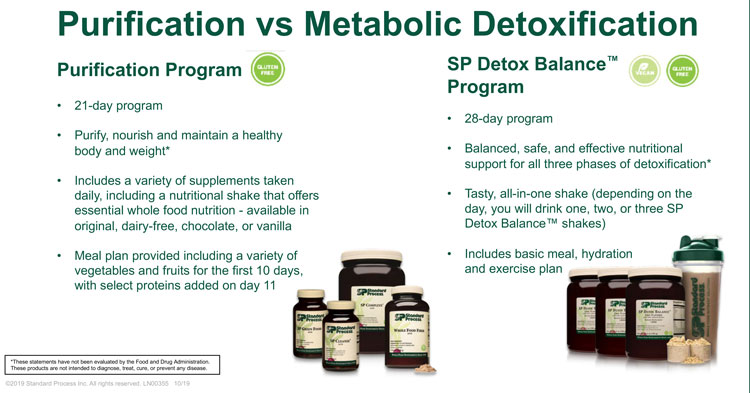 It's a series of natural biochemical processes responsible for clearing toxins from our bodies. In the three-phase process, the body unlocks fat-soluble toxins and converts them to a water-soluble state that is easier for our bodies to remove. We need key nutrients and phytonutrients to support each of these phases.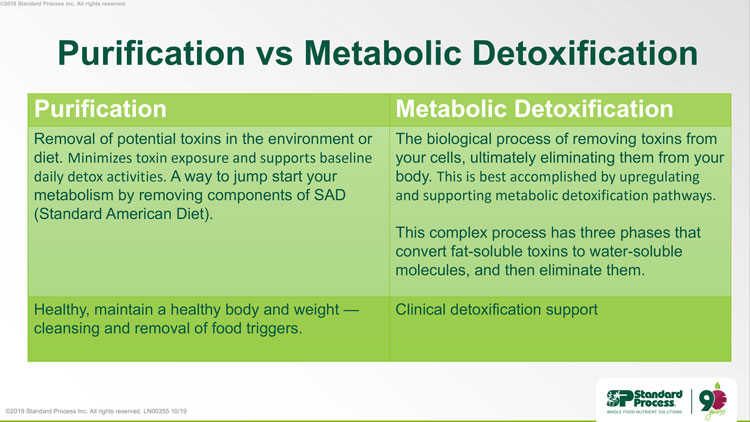 ---
How Do the Three Phases of Metabolic Detoxification Work?
Phase I: Unlock
The body transforms fat-soluble toxins to an "unlocked" state that is more water-soluble, and in many cases, more toxic than its original form.
SP Detox Balance delivers key nutrients.
Phase II: Neutralize
The highly toxic substances produced in Phase I convert to non-toxic molecules and become even more water-soluble.
SP Detox Balance delivers key nutrients.
Phase III: Eliminate
Water-soluble toxins leave cells, and the body eliminates them.
SP Detox Balance delivers plant-based fiber to aid toxin elimination.
---
Is Nutrition Important During Metabolic Detoxification?
The detoxification system is highly dependent on proper nutrient support for optimal functioning. This product provides significant amounts of protein and key amino acids including those required for conjugation enzymes (phase II enzymes). It's a good source of fiber and magnesium among other vital nutrients.
Fasting or poor nutritional support during a detoxification program has many adverse health effects, including decreased energy production, brain fog, mood and sleep difficulties, and a breakdown of lean tissue. Detoxification is an energy-dependent process, and maintenance of adequate energy supply is crucial.
---
21-Day Standard Process Purification
The 21-day Standard Process Purification Program isn't just a cleanse diet. It's a structured program that brings healthy lifestyle habits into focus.
It's designed to purify, nourish and help patients maintain healthy body weight by eating whole foods, exercising, drinking nutritious shakes, and taking supplements made with whole food and other ingredients.*
The menu includes a varied abundance of fresh vegetables and fruits for the first 10 days, with select proteins added on day 11. The supplements support the body's ability to remove naturally occurring toxins. This promotes a state that allows for toxin release.*
---
What Our Patients Have To Say
"The 21 day Detoxification Program was " Bitter Sweet" for me. Once my mindset of what to expect from the program and what goals I wanted to achieve from the program were in place it was "game on".The body detoxification was just that and it came with mixed emotions! Once my body adjusted about 4-5 days in I could see the sweet results of weight loss coming through.With this 21 Detoxification Program you will definitely get a new appreciation for the right foods to eat and what right foods make you and your body feel good."

- Charmayne C.
---
Paperwork
---
ONLINE ORDERS!
We offer online purchasing for Standard Process products!
* The dietary supplement products mentioned in this document are not intended to "diagnose, treat, cure or prevent any disease," because only a drug can legally make such a claim.
OFFICE HOURS
---
Monday
9:00am - 5:00pm

---
Tuesday
9:00am - 5:00pm
---
Wednesday
9:00am - 5:00pm
---
Thursday
Closed
---
Friday
9:00am - 5:00pm
---
Saturday
Closed
---
Sunday
Closed
---
ONLINE ORDERS!
We offer online purchasing for Standard Process products!